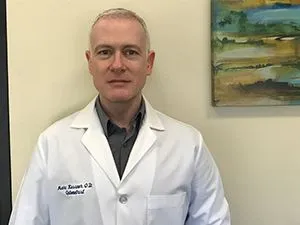 Dr. Kessner moved to San Antonio in 2011, and has worked locally until finding the right opportunity to begin his own practice in San Antonio, Eyes On Texas Vision Care. He is committed to helping you bring your world into focus. He and his staff will work with you to satisfy your eye health and visual needs.
Dr. Kessner received his undergraduate degree with honors from East Carolina University. His doctoral studies were finished in 2009 at the Pennsylvania College of Optometry, now Salus University, in Pennsylvania. Dr. Kessner has served in the U S Army and participated in our last two conflicts with Iraq.
Dr. Kessner is a licensed and certified glaucoma specialist with extensive experience and training in the evaluation and management of anterior eye disease, glaucoma, diabetic eye disease, and ocular infection and inflammation.
He is an active member of the American Optometric Association and the Texas Optometric Association.